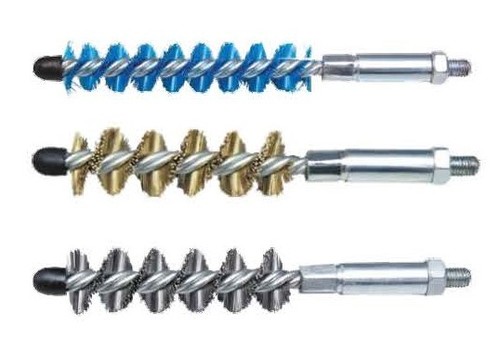 Single Spiral Brush
Product Code : BE-003
Product Description
We have successfully constructed an ultra-modern manufacturing unit that enables us to provide the clients with Single Spiral Brush. These products are generally used in different companies and industries for cleaning of varied types of tubes and pipes. In order to ascertain their superior finish and accurate dimensions, these products are tested by our team of skillful quality controllers. Single Spiral Brush is available with us in varied sizes as per the requirements of the clients.
Wire fill Material :- Nylon, Brass, Stainless Steel
Size:- 2" (50.8mm) Max.
| | | | |
| --- | --- | --- | --- |
| Serial No. | Size (Mm) | Size (Inch) | 'SSB' Single Sprial Brush Model Nos. |
| 1 | 6.40 | 1/4 | SSB-204 |
| 2 | 9.50 | 3/8 | SSB-206 |
| 3 | 12.7 | 1/2 | SSB-208 |
| 4 | 15.9 | 5/8 | SSB-210 |
| 5 | 19.1 | 3/4 | SSB-212 |
| 6 | 22.2 | 7/8 | SSB-214 |
| 7 | 25.4 | 1 | SSB-216 |
| 8 | 28.6 | 1.1/8 | SSB-218 |
| 9 | 31.7 | 1.1/4 | SSB-220 |
| 10 | 34.9 | 1.3/8 | SSB-221 |
| 11 | 38.1 | 1.1/2 | SSB-222 |
| 12 | 41.2 | 1.5/8 | SSB-223 |
| 13 | 44.4 | 1.3/4 | SSB-224 |
| 14 | 47.6 | 1.7/8 | SSB-225 |
| 15 | 50.8 | 2 | SSB-226 |