Wire Brushes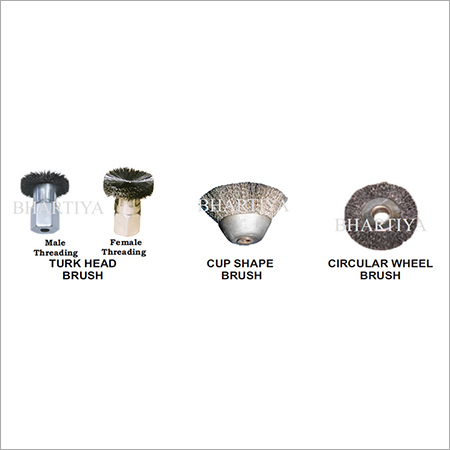 Wire Brushes
Product Description
Operating from Thane, Maharashtra, we are a 1989 established company engaged in manufacturing and supplying excellent quality Wire Brushes. These are made at our ultra-modern facility using top-notch quality materials and the latest innovative techniques under proper guidance and supervision of deft professionals. These are widely used for removing rust and deburr from the surface of machines. Our quality analysts thoroughly check this range of brushes on varied parameters of quality prior to its dispatch from our end. We offer Wire Brushes in different sizes and types as per requirements and that too at fairly reasonable rates.
Turk Head Brush

Max . Size of brush : 6" (152.4mm)
Purpose : For removal of light scale from pan, evaporator, juice heaters tube.

Cup Shape Brush

Max. Size of brush: 6" (152.4mm)
Purpose : For cleaning more space or where rotary brush can not be used.
Circular Wheel Brush

Max. Size of brush: 6" (152.4mm)
Thickness : ½" to 2"
Purpose : For polishing, deburing & cleaning of tube
Size

'BT' Turk Head Brush
Model Nos.

'BCS' Cup Shape
Brush Model Nos.

'BCW' Circular Wheel
Brush Model Nos.

Mm.

Inch

31.7

1.1/4

BT-10

-----

BCW-10

35.0

1.3/8

BT-11

-----

BCW-11

38.1

1.1/2

BT-12

-----

BCW-12

41.3

1.5/8

BT-13

-----

BCW-13

44.5

1.3/4

BT-14

-----

BCW-14

47.6

1.7/8

BT-15

-----

BCW-15

51.0

2

BT-16

BCS-16

BCW-16

54.0

2.1/8

BT-17

BCS-17

BCW-17

57.1

2.1/4

BT-18

BCS-18

BCW-18

60.3

2.3/8

BT-19

BCS-19

BCW-19

63.5

2.5/8

BT-20

BCS-20

BCW-20

66.7

2.5/8

BT-21

BCS-21

BCW-21

69.8

2.3/4

BT-22

BCS-22

BCW-22

73.0

2.7/8

BT-23

BCS-23

BCW-23

76.2

3

BT-24

BCS-24

BCW-24

79.4

3.1/8

BT-25

BCS-25

BCW-25

82.5

3.1/4

BT-26

BCS-26

BCW-26

85.7

3.3/8

BT-27

BCS-27

BCW-27

88.9

3.1/2

BT-28

BCS-28

BCW-28

92.1

3.5/8

BT-29

BCS-29

BCW-29

95.2

3.3/4

BT-30

BCS-30

BCW-30

98.4

3.7/8

BT-31

BCS-31

BCW-31

101.6

4

BT-32

BCS-32

BCW-32
Trade Information
Within a certain price range free samples are available

CORRUGATED BOX FOR AIR / COURIER MODE OR WOODEN BOX FOR SEA / ROAD TRANSPORTATION
Australia, Middle East, Central America, South America, Western Europe, Asia, Africa

All India